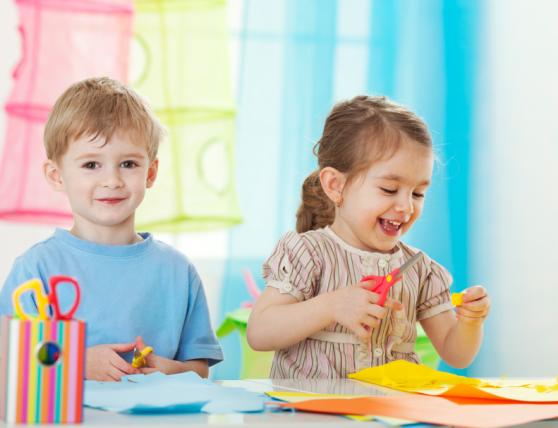 How much support the child needs, his or her language skills and where the family lives are all examples of the many factors that influence which form of day care is most suitable for the child. The rehabilitation services provider should be involved in the discussion when making the choice.
Kindergarten
At a kindergarten the child is cared for by experts in early childhood education. A kindergarten staff will include e.g.kindergarten teachers, childminders and aides. A special education kindergarten teacher or a roving version of the same guides the staff in working with children who need special support.
Kindergarten pros and cons:
+ skiled professional staff
+ access to personal or group aide
– noise
– groups are sometimes large
For the most part it's possible to organize the day care of a hearing impaired child in so-called regular groups at a kindergarten or a family day care. Integrated special groups or a special needs kindergarten are often available, too.
SPECIAL NEEDS DAY CARE aims at early detection of any special support the child may need, as well as securing the support and care the child needs. Depending on how much support the child needs, the number of children in the group may be cut or a group or personal aide provided to help with the care.
INTEGRATED SPECIAL GROUPS include children who need additional support, i.e. early education rehabilitation, etc. Groups like this are started in various kindergartens, as needed. Special groups may include hearing impaired children or children who have a hard time communicating.
Children who need lots of special support are often placed in SPECIAL DAY CARE. Rehabilitation pedagogy takes place in small groups, in a structured manner, but special needs are taken into account in all activities.
Family day care
Family day care offers a homelike environment and a small group, with an emphasis on basic care and play. Famiy day care is organized primarily at the care provider's home.
Different forms of family day care are available:
Family day care at the provider's home
A family day care provider can care for a maximum of four full-time children under school age in his or her own home. The number includes the care provider's own children. The care provider may take on one additional preschooler or school age child who needs care for a part of the day.
Three-family day care
In three-family day care, the care provider cares for the children at the homes of the families – each in turn.. Three-family day care requires close cooperation and a lot flexibility from all involved. The family whose home the choldren are being cared at for is responsible for providing the food, too.
Group family day care
In a group family day care, two carers care for a maximum of eight children and an additional two pre-schoolers or school-age children who require only part-time care. If there are three carers, they can look after a maximum of twelve children in full-time care. Group family day care is usually offered at a facility provided by the municipality.
Family day care staff training and accreditation
Family day care providers have undergone training and are certified childcare providers. A family child care provider works independently and is responsible for the activities of his or her group. If the group family day care team includes three carers, one of them must have a vocational or equivalent degree.
Family day care pros and cons:
+ small group
+ often offers a homelike environment
+ potentially fewer sickdays thanks to less children
+ / – level of special skills and training varies
– when carer is sick or on vacation, arranging for s substitute may be difficult
– childrens' age differences may be considerable
– carer may be alone with children, which can make providing adequate supervision a challenge
Sources:
Child day care, City of Helsinki Social Services Department
Early Childhood Education in Helsinki [PDF], City of Helsinki Social Services Department